THE CARROLL COUNTY JAZZ ENSEMBLE WILL PRESENT THE 15TH ANNUAL BIG BAND MERRY CHRISTMAS CONCERT ON SATURDAY, DECEMBER 3, 2016, AT 7:30 P.M., IN THE AUDITORIUM OF WESTMINSTER HIGH SCHOOL.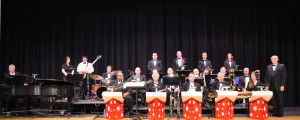 Our featured performer this year is Dr. Mark Runkles on Jazz Oboe and Tenor Saxophone. Mark Runkles completed his Doctor of Musical Arts in Oboe Performance at UNLV. Dr. Runkles earned his Master of Fine Arts in Oboe Performance and Master of Arts in Jazz Studies from the University of Iowa and his Bachelor of Arts in Oboe Performance from St. Mary's College of Maryland. In 2008, he performed a series of Jazz Vespers services in Scotland. He served as the Assistant Principal Oboe with the Chesapeake Orchestra from 1999–2004 and performed on 2nd Oboe with the Las Vegas Philharmonic from the winter of 2009 through 2012. Dr. Runkles is a student of Stephen Caplan, Mark Weiger, and Vladimir Lande.
Additional performances by D&J's Dynamite Dance Company, Brad Collins, Jeff Boone, Herb Sell, Gil Rathel, The Three Tenors (Saxophones), Carroll County Children's Chorus, and 3rd Generation.
Access Carroll will again be the beneficiary of this concert.
Click Here to Buy Tickets Now!
THE SNOW DATE FOR THE CONCERT IS WEDNESDAY, DECEMBER 7TH.