The broadest, and maybe the most meaningful definition of volunteering:
Doing more than you have to because you want to, in a cause you consider good.
~~Ivan Scheier~~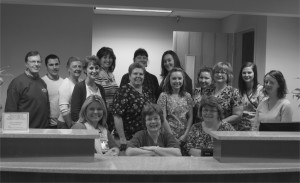 Access Carroll depends upon the services of volunteers. In 2014, 205 volunteers gave 8,370 hours of service! Positions are open in clerical and clinical areas, as well as volunteers for general office upkeep, community events, and fund raising. Professional volunteers are particularly needed to support medical and dental services and include physicians, dentists, hygienists, social workers, nurses, medical and nursing assistants, and other licensed support staff.  The mission of Access Carroll cannot be accomplished without our volunteer staff!
Access Carroll is open Monday through Friday from 8:30 a.m. to 5:00 p.m., and closed on major holidays. A minimum commitment of twice a month is requested.
If you are interested in volunteering, please fill out the Volunteer Application. Additionally, professional licensed volunteers should also complete the Additional Application for Licensed Professionals.
Related Documents
For further information, please call Access Carroll at 410-871-1478 or email at info@accesscarroll.org.